$136.29
RRP $191.52
SAVE $55.23 (29%)
In Stock

More info.
Make 4 interest-free payments of $34.07 fortnightly and receive your order now.
Product Description
RDA Brake Disc Rotors & EXTREME Heavy Duty Brake Pads
This item contains 2 Standard Replacement Brake Disc Rotors (Pair) & 1 set of Extreme Heavy Duty Brake Pads
RDA Brakes EXTREME Heavy Duty Brake Pads
RDA's Extreme heavy duty brake pads
Ideal for those with heavy cars who often carry large loads, 4WD's, people movers, fleet users, couriers, taxi's, towing trailers & those with a tendency to brake heavily in everyday driving.
Semi-Metallic Disc Brake Pads, low dust, extremely quiet, exceptional pedal feel, High metallic compound, Baked enamel backing plate, Every pad is centre grooved
Every pad has chamfered edges.
Every pad has shimmed backing plate.
### Picture is for Illustration Purposes only.
Please check the item description for model details including model codes, month/year differences, engine codes, and other notes to ensure correct fitment.
Note *1: Read The Description Carefully. Where an item says to check the disc diameter please check before purchasing. And please also check the brake pad diagram to make sure it is the same as the brake pads on your vehicle. All care has been taken in listing this item as per the manufacturers catalogue.
Note *2: This item will be delivered via a COURIER, it is often a problem delivering to private addresses please provide a BUSINESS ADDRESS or a Address where someone will be at home to accept delivery during the day. THIS ITEM WILL NOT BE LEFT AT ADDRESS WITHOUT SOMEONE TO SIGN FOR IT. Item can also not be sent to PO BOXES.
Item Specifications
| | |
| --- | --- |
| Outside Diameter | 298mm |
| Vented Or Solid (outside Edge) | Vented |
| Centre Hole | 71.8mm |
| Original Height | 65mm |
| Position On Vehicle | Front |
| Minimum Thickness | 26mm |
| Industry Standard Part Code | #REF! |
| Number of Studs | 5 |
| Original Thickness | 28mm |
About this brand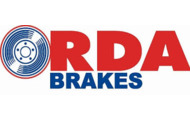 RDA Brakes are one of the largest brake companies in Australia. Formally known as Rotors & Drums Australia.
The RDA Brakes range is the largest in the Australian market with products covering over 2,400 vehicle applications from Alfa Romeo through to Volvo's and everything in between.
The RDA Brakes product range includes standard replacement Brake Disc Rotors, upgrade Dimpled & Slotted Rotors, GP MAX General Purpose Brake Pads, Extreme Heavy Duty Brake Pads, Replacement Brake Drums, Brake Shoes and Handbrake Shoes.
All the RDA Brakes products are of the highest quality and great value for money. Products are sourced from the world's best manufacturers.
Vehicle Fitment
| | | | | | | | | |
| --- | --- | --- | --- | --- | --- | --- | --- | --- |
| Make | Model | Chassis | Series | Production Date | Engine | DriveType | BodyType | Product Notes |
| FORD | FAIRLANE | BA | 4.0 MPFi | 7/2003 - 9/2005 | 6cyl 4L Petrol [ BARRA 182 182kW ] | RWD | Sedan | NOT for XR6 Turbo, XR8, G6E Turbo or FPV models. |
| FORD | FAIRLANE | BA | 5.4 MPFi V8 | 7/2003 - 9/2005 | 8cyl 5.4L Petrol [ BARRA 220 220kW ] | RWD | Sedan | NOT for XR6 Turbo, XR8, G6E Turbo or FPV models. |
| FORD | FAIRLANE | BF | 4.0 MPFi | 10/2005 - 12/2007 | 6cyl 4L Petrol [ BARRA 190 190kW ] | RWD | Sedan | NOT for XR6 Turbo, XR8, G6E Turbo or FPV models. |
| FORD | FAIRLANE | BF | 5.4 MPFi V8 | 10/2005 - 12/2007 | 8cyl 5.4L Petrol [ BARRA 230 230kW ] | RWD | Sedan | NOT for XR6 Turbo, XR8, G6E Turbo or FPV models. |
| FORD | FALCON | BA | 4.0 LPG | 9/2002 - 9/2005 | 6cyl 4L Petrol/Gas (LPG) [ BARRA 156 156kW ] | RWD | Sedan | NOT for XR6 Turbo, XR8, G6E Turbo or FPV models. |
| FORD | FALCON | BA | 4.0 i (Inc XR6) | 9/2002 - 9/2005 | 6cyl 4L Petrol [ BARRA 182 182kW ] | RWD | Sedan | NOT for XR6 Turbo, XR8, G6E Turbo or FPV models. |
| FORD | FALCON | BA | 4.0 i XR6 Turbo | 9/2002 - 9/2005 | 6cyl 4L Petrol [ BARRA 240T 240kW ] | RWD | Sedan | NOT for XR6 Turbo, XR8, G6E Turbo or FPV models. |
| FORD | FALCON | BA | 5.4 i V8 | 9/2002 - 9/2005 | 8cyl 5.4L Petrol [ BARRA 220 220kW ] | RWD | Sedan | NOT for XR6 Turbo, XR8, G6E Turbo or FPV models. |
| FORD | FALCON | BA | 5.4 i V8 XR8 | 10/2002 - 9/2005 | 8cyl 5.4L Petrol [ Boss 260 260kW ] | RWD | Sedan | NOT for XR6 Turbo, XR8, G6E Turbo or FPV models. |
| FORD | FALCON | BA | 4.0 LPG | 9/2002 - 9/2005 | 6cyl 4L Petrol/Gas (LPG) [ BARRA 156 156kW ] | RWD | Ute | NOT for XR6 Turbo, XR8, G6E Turbo or FPV models. |
| FORD | FALCON | BA | 4.0 i (Inc XR6) | 10/2002 - 9/2005 | 6cyl 4L Petrol [ BARRA 182 182kW ] | RWD | Ute | NOT for XR6 Turbo, XR8, G6E Turbo or FPV models. |
| FORD | FALCON | BA | 4.0 i XR6 Turbo | 10/2002 - 9/2005 | 6cyl 4L Petrol [ BARRA 240T 240kW ] | RWD | Ute | NOT for XR6 Turbo, XR8, G6E Turbo or FPV models. |
| FORD | FALCON | BA | 5.4 i V8 | 9/2002 - 9/2005 | 8cyl 5.4L Petrol [ BARRA 220 220kW ] | RWD | Ute | NOT for XR6 Turbo, XR8, G6E Turbo or FPV models. |
| FORD | FALCON | BA | 5.4 i V8 XR8 | 10/2002 - 9/2005 | 8cyl 5.4L Petrol [ Boss 260 260kW ] | RWD | Ute | NOT for XR6 Turbo, XR8, G6E Turbo or FPV models. |
| FORD | FALCON | BA | 4.0 LPG | 9/2002 - 9/2005 | 6cyl 4L Petrol/Gas (LPG) [ BARRA 156 156kW ] | RWD | Wagon | NOT for XR6 Turbo, XR8, G6E Turbo or FPV models. |
| FORD | FALCON | BA | 5.4 i V8 | 9/2002 - 9/2005 | 8cyl 5.4L Petrol [ BARRA 220 220kW ] | RWD | Cab Chassis | NOT for XR6 Turbo, XR8, G6E Turbo or FPV models. |
| FORD | FALCON | BA | 4.0 i | 9/2002 - 9/2005 | 6cyl 4L Petrol [ BARRA 182 182kW ] | RWD | Wagon | NOT for XR6 Turbo, XR8, G6E Turbo or FPV models. |
| FORD | FALCON | BA | 4.0 i | 9/2002 - 9/2005 | 6cyl 4L Petrol [ BARRA 182 182kW ] | RWD | Cab Chassis | NOT for XR6 Turbo, XR8, G6E Turbo or FPV models. |
| FORD | FALCON | BA | 4.0 i Turbo | 9/2002 - 9/2005 | 6cyl 4L Petrol [ BARRA 245T 220kW ] | RWD | Cab Chassis | NOT for XR6 Turbo, XR8, G6E Turbo or FPV models. |
| FORD | FALCON | BA | 4.0 LPG | 9/2002 - 9/2005 | 6cyl 4L Petrol/Gas (LPG) [ BARRA 156 156kW ] | RWD | Cab Chassis | NOT for XR6 Turbo, XR8, G6E Turbo or FPV models. |
| FORD | FALCON | BF | 4.0 | 10/2005 - 4/2008 | 6cyl 4L LPG [ BARRA 156 156kW ] | RWD | Sedan | NOT for XR6 Turbo, XR8, G6E Turbo or FPV models. |
| FORD | FALCON | BF | 4.0 i (Inc XR6) | 10/2005 - 4/2008 | 6cyl 4L Petrol [ BARRA 190 190kW ] | RWD | Sedan | NOT for XR6 Turbo, XR8, G6E Turbo or FPV models. |
| FORD | FALCON | BF | 4.0 | 10/2005 - 4/2008 | 6cyl 4L LPG [ BARRA 156 156kW ] | RWD | Ute | NOT for XR6 Turbo, XR8, G6E Turbo or FPV models. |
| FORD | FALCON | BF | 4.0 i XR6 | 10/2005 - 4/2008 | 6cyl 4L Petrol [ BARRA 190 190kW ] | RWD | Ute | NOT for XR6 Turbo, XR8, G6E Turbo or FPV models. |
| FORD | FALCON | BF | 4.0 LPG | 10/2005 - 4/2008 | 6cyl 4L Petrol/Gas (LPG) [ BARRA 156 156kW ] | RWD | Wagon | NOT for XR6 Turbo, XR8, G6E Turbo or FPV models. |
| FORD | FALCON | BF | 4.0 i | 10/2005 - 4/2008 | 6cyl 4L Petrol [ BARRA 190 190kW ] | RWD | Wagon | NOT for XR6 Turbo, XR8, G6E Turbo or FPV models. |
| FORD | FALCON | BF | 4.0 i | 10/2005 - 4/2008 | 6cyl 4L Petrol [ BARRA 190 190kW ] | RWD | Cab Chassis | NOT for XR6 Turbo, XR8, G6E Turbo or FPV models. |
| FORD | FALCON | BF | 4.0 LPG | 10/2005 - 1/2008 | 6cyl 4L Petrol/Gas (LPG) [ BARRA 156 156kW ] | RWD | Cab Chassis | NOT for XR6 Turbo, XR8, G6E Turbo or FPV models. |
| FORD | FALCON | FG | 4.0 i G6/XR6 | 2/2008 - 12/2014 | 6cyl 4L Petrol [ BARRA 195 195kW ] | RWD | Sedan | NOT for XR6 Turbo, XR8, G6E Turbo or FPV models. |
| FORD | FALCON | FG | 4.0 i R6(Inc XR6) | 2/2008 - 12/2014 | 6cyl 4L Petrol [ BARRA 195 195kW ] | RWD | Ute | NOT for XR6 Turbo, XR8, G6E Turbo or FPV models. |
| FORD | FALCON | FG | 4.0 i | 2/2008 - 12/2014 | 6cyl 4L Petrol [ BARRA 195 195kW ] | RWD | Cab Chassis | NOT for XR6 Turbo, XR8, G6E Turbo or FPV models. |
| FORD | FALCON | FG | 4.0 LPG | 2/2008 - 12/2014 | 6cyl 4L Petrol/Gas (LPG) [ BARRA 156 156kW ] | RWD | Cab Chassis | NOT for XR6 Turbo, XR8, G6E Turbo or FPV models. |
| FORD | FALCON | FG | 4.0 LPG | 2/2008 - 12/2014 | 6cyl 4L Petrol/Gas (LPG) [ BARRA 156 156kW ] | RWD | Ute | NOT for XR6 Turbo, XR8, G6E Turbo or FPV models. |
| FORD | FALCON | FG | 4.0 LPG | 2/2008 - 12/2014 | 6cyl 4L Petrol/Gas (LPG) [ BARRA 156 156kW ] | RWD | Sedan | NOT for XR6 Turbo, XR8, G6E Turbo or FPV models. |
| FORD | FALCON | FG | 4.0 EocLPi G6/XR6/G6E | 8/2010 - 12/2014 | 6cyl 4L LPG [ 198kW ] | RWD | Sedan | NOT for XR6 Turbo, XR8, G6E Turbo or FPV models. |
| FORD | FALCON | FG | 4.0 LPi | 12/2011 - 12/2014 | 6cyl 4L LPG [ BARRA 198 198kW ] | RWD | Cab Chassis | NOT for XR6 Turbo, XR8, G6E Turbo or FPV models. |
| FORD | FALCON | FG | 4.0 LPi | 12/2011 - 12/2014 | 6cyl 4L LPG [ BARRA 198 198kW ] | RWD | Ute | NOT for XR6 Turbo, XR8, G6E Turbo or FPV models. |
| FORD | FALCON | FG | 2.0 EcoBoost | 1/2012 - 12/2014 | 4cyl 2L Petrol [ 179kW ] | RWD | Sedan | NOT for XR6 Turbo, XR8, G6E Turbo or FPV models. |
| FORD | LTD | BA | 5.4 V8 | 7/2003 - 9/2005 | 8cyl 5.4L Petrol [ BARRA 220 220kW ] | RWD | Sedan | NOT for XR6 Turbo, XR8, G6E Turbo or FPV models. |
| FORD | LTD | BF | 5.4 V8 | 10/2005 - 12/2007 | 8cyl 5.4L Petrol [ BARRA 230 230kW ] | RWD | Sedan | NOT for XR6 Turbo, XR8, G6E Turbo or FPV models. |