Product Description
RDA Brake Disc Rotor (1)
This item contains 1 Standard Replacement Brake Disc Rotor only

Note: It is not reccommended to change just 1 brake disc at any time. You should only be changing them as a pair.
### Picture is for Illustration Purposes only.
Please check the item description for model details including model codes, month/year differences, engine codes, and other notes to ensure correct fitment.
Note *1: Read The Description Carefully. Where an item says to check the disc diameter please check before purchasing. And please also check the brake pad diagram to make sure it is the same as the brake pads on your vehicle. All care has been taken in listing this item as per the manufacturers catalogue.
Note *2: This item will be delivered via a COURIER, it is often a problem delivering to private addresses please provide a BUSINESS ADDRESS or a Address where someone will be at home to accept delivery during the day. THIS ITEM WILL NOT BE LEFT AT ADDRESS WITHOUT SOMEONE TO SIGN FOR IT. Item can also not be sent to PO BOXES.
Item Specifications
| | |
| --- | --- |
| Centre Hole | 55mm |
| Maximum Diameter | 201mm |
| Position On Vehicle | Rear |
| Drum Height | 58mm |
| Number of Studs | 4 |
| Diameter Face | 200mm |
| Machine Face | 42mm |
About this brand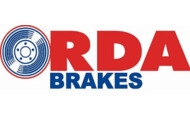 RDA Brakes are one of the largest brake companies in Australia. Formally known as Rotors & Drums Australia.
The RDA Brakes range is the largest in the Australian market with products covering over 2,400 vehicle applications from Alfa Romeo through to Volvo's and everything in between.
The RDA Brakes product range includes standard replacement Brake Disc Rotors, upgrade Dimpled & Slotted Rotors, GP MAX General Purpose Brake Pads, Extreme Heavy Duty Brake Pads, Replacement Brake Drums, Brake Shoes and Handbrake Shoes.
All the RDA Brakes products are of the highest quality and great value for money. Products are sourced from the world's best manufacturers.
Vehicle Fitment
Make

Model

Chassis

Series

Production Dates

# of Cyl

Capacity

Engine Code

KW

Fuel Type

Drive

Body

Notes

NISSAN

PRAIRIE

"M10

NM10"

12/1982-12/1986

12/1982-12/1986

4

1.5

E15S

55

Petrol

Front Wheel Drive

NISSAN

S-CARGO

G20

1.5 (G20)

1/1989-3/1994

4

1.5

E15S

54

Petrol

Rear Wheel Drive

Van

NISSAN

PRAIRIE

"NM10

M10"

12/1982-12/1986

12/1982-12/1986

4

1.5

E15S

55

Petrol

Front Wheel Drive

PLEASE SEND US YOUR VEHICLE DETAILS WHEN PLACING YOUR ORDER
(if the item is not a vehicle specific product then disregard this)
Even if the Vehicle Compatibility Table have your vehicle listed, there may be more than one type for that same car. Please send us your vehicle details either in the notes of the order or in a message after placing the order.
Parts orders without supplied vehicle information may result in delayed shipment of the order.
Please include the following information
Make
Model
Build Date (Month/Year)
Engine/Fuel Type (Engine Capacity and Petrol or Diesel)
VIN Number
and any other information that may be useful such as 4WD or 2WD.
To ensure you get the correct part for your vehicle we ask you to send us this information.
FITMENT NOTES:
Please refer to the Fitment Tab for detailed vehicle fitment and notes for vehicle fitment. PLEASE read any notes carefully as it may ask you to check a size, or a VIN. The notes may also contain other important information referring to the vehicle fitment.
CHECK the Item Specific details above for details such as vehicle location, quantity per vehicle, specifications of item and other important information on the part.
If your unsure message or email us your car details (VIN, make, model, series, month/year, engine code, transmission type) BEFORE you order so it can be checked
Fitment lists are for Australian delivered/domestic vehicles and may not apply to imports or overseas buyers
Reviews
Be The First To Review This Product!
Help other GSS Auto Parts users shop smarter by writing reviews for products you have purchased.